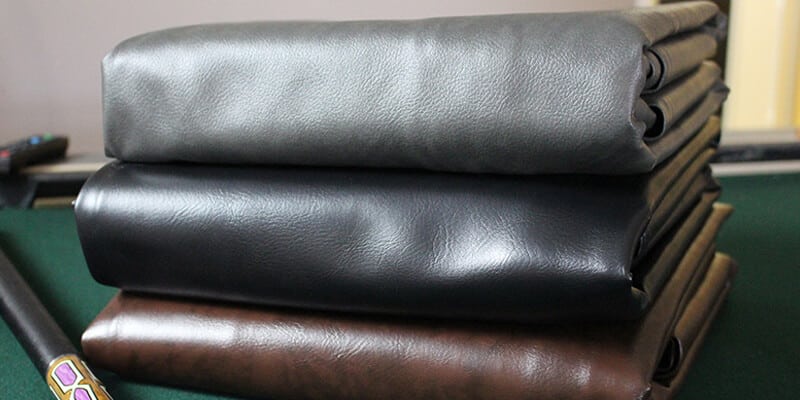 A pool table cover is a great accessory to have to help you get the most out of your investment in your pool table. A pool table cover can help extend the life of your pool table cloth prevent fading, and protect from spills, smudges, scratches, and debris.
At West Penn Billiards, we've put together the ultimate guide to help find the right pool table cover to meet your needs.
Choosing a Pool Table Cover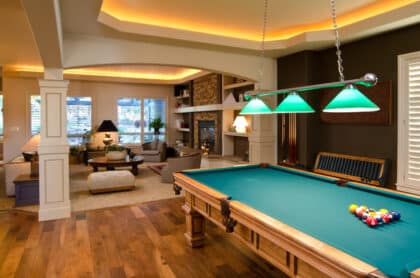 When choosing a pool table cover, you need to consider the size, color, style, and durability.
Size
The fitting size is crucial when choosing a pool table cover. For the cover to adequately protect the table, it must fit correctly. Finding the correct size is a common issue for buyers. Typically, pool tables range in size between 7 and 9 feet. We recommend that you measure your pool table and get the correct dimensions prior to purchasing your cover. This will help you get the proper, secure fit you desire.
When you try out the cover, you want to make sure that it completely wraps around the play area and the entire pool table.
Color

When choosing the color of your pool table, you need to consider the décor of your game room. For example, if the room is painted a darker color, you may want to choose a lighter-colored pool table cover to provide contrast.
Style

Pool table covers are available in two styles including full coverage and edge-to-edge pool table covers. The full coverage pool table covers drape down covering the entire pool table and the side table apron. An edge-to-edge pool table cover is sized to cover the entire playing area from edge to edge. Both types of cover work well to cover and protect your pool table, the best choice depends on your needs.
Durability

Material plays a major role in the durability of your pool table cover. Naugahyde is heavy-duty whereas vinyl can tear easily and doesn't last as long. When it comes to durability, you may also want to consider a table cover with reinforced seams.
Materials to Consider

The material you choose is one of the most important aspects of your pool table cover. Typically pool table covers are available in three different materials:
· Naugahyde- This material is strong and water-resistant for maximum indoor protection.
· Leather- This material is light and long-lasting and can be treated easily.
· Vinyl- This material makes up the most common, mid-grade covers. This is the cheaper option and will protect you from dust and debris but does not last as long as other materials.
If the area where your pool table is accessible to children, pets, or guests frequently, you may want to choose a more durable material that can withstand the abuse of spills, moisture, scratches, and general neglect, such as Naugahyde. If your table isn't subject to much abuse, leather and vinyl have lower price points and are both great options as well.
Cost of Pool Table Covers

When it comes to pricing, it is recommended that you go with the best material you can afford. Vinyl tends to be cheaper but will not last as long as the more expensive options of leather and Naugahyde. This means you will need to spend more in the long replacing your vinyl covers.
Other factors that affect pricing include the size of your table, custom color and design options, style, brand, and more. If you want to protect your table with a heavy-duty cover that will last for years, it is important to go with high-end brands like our Olhausen pool table covers we have in stock at West Penn Billiards.
Convertible Pool Table Covers

If you are looking for a way to make your pool table functional when it is not in use, then a convertible pool table cover will do the trick! A convertible pool table conversion top, when paired with a leatherette or vinyl cover, can transform your pool table into a table that can be used for dining or for serving guests buffet-style!
The pool table conversion top is a vinyl-covered foam insert that securely fits inside of the cushion of your pool table. This insert conveniently folds up like a map and can easily be stored under your pool table or in your closet when not in use.
With a convertible pool table cover, you can protect your table and expand its use for entertaining and more.
Covers to Consider if you Have a Pet

If you have pets in your home and they roam the room where your pool table it's important to ensure you choose a cover that can withstand that abuse a pet can place on your pool table.
One type of cover we recommend is a leatherette cover. This material is strong, durable, and scratch-resistant. It will work to protect your pool table from scratches and spills that can be caused by your pets.
Another type of cover is the Naugahyde cover. This material is also extremely durable and can handle more abuse than the average vinyl cover, making it a great option for those with pets. We also recommend a fitted cover for more secure protection. A no-fitted cover may be accidentally pulled off the table by a pet, leaving the pool table vulnerable to damage. With a fitted pool cover, it's more likely to stay in place and provide the desired protection.
Ready to Choose Your Pool Table Cover?
At West Penn Billiards, we have a large selection of high-quality pool table cover to meet your needs.
Contact us today
to learn more!
Latest posts by West Penn Billiards
(see all)