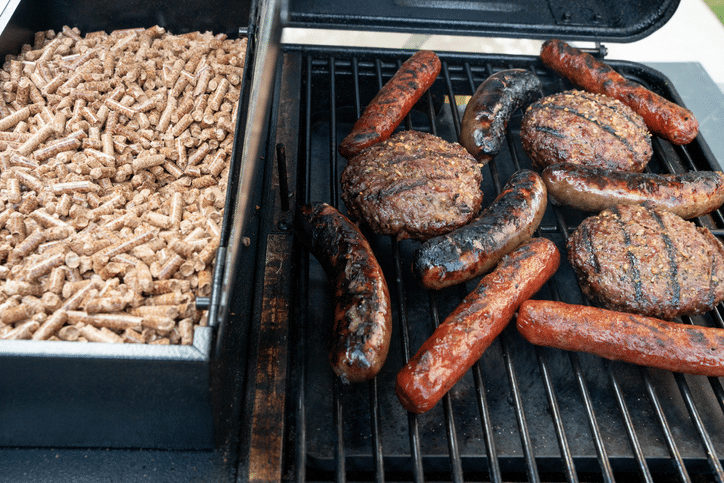 A pellet grill is a great way to get an amazing BBQ flavor. If you're a fan of slow-cooked smoked meats but are looking for an alternative to watching a charcoal smoker for hours, then a pellet smoker is a great option to add to your outdoor space.
What is a Pellet Smoker?
Pellet smokers and grills
are a newer addition to the BBQ scene, using a fuel type called wood pellets. The pellets are made from hardwood sawdust that has been compressed. You can purchase these wood pellets in a variety of flavors. To fuel the grill, an electric auger feeds the pellets into the grill's firepot. This is designed to feed the number of pellets needed to heat the grill to your desired temperature.
Unlike with a charcoal smoker, you won't have to watch over your pellet smoker; adjust the vents to control the temperature or add fuel. With a pellet smoker, all you must do is set the smoker to your desired temperature, press start, and relax while the smoker does the work.
Pellet Smoker Benefits
Pellet smokers offer a variety of benefits to make your life easier! The main benefits include:
Even heat- A pellet smokers act more like an oven or a smoke chamber. This allows it to apply generally even heat to every part of the grill.
Smoky flavor- With a variety of BBQ pellet flavors such as hickory and cherry, you can get a great smoke flavor and can even mix the pellets for amazing flavor combinations.
Consistency- Since your pellet smoker constantly monitors the temperature, it will automatically add pellets as needed to keep the temperature consistent.
Fewer flare-ups- Pellet smokers are equipped with a full-coverage heat baffle that separates the food from the fire pot, preventing flare-ups.
User-friendly- With features like pre-programming for smoke cycles, pellet smokers are easy for everyone to use.
Large temp range- From low and slow for smoking to higher heats for grilling, pellet smokers have a wide temperature range.
Wi-Fi connectivity- Some pellet smoker models can connect to your phone through Wi-Fi or Bluetooth, so you can easily control your pellet smoker from your phone.
Easy ignition- The firepot can be primed, and the grill can be ignited by just pushing a button.
With all these amazing benefits, you can easily use your smoker to create culinary masterpieces that your family and guests will enjoy.
Pellet Smoker Cooking Capabilities
With a pellet smoker, the cooking possibilities are endless! Temperatures range from below 200°F to around 700°F; you can BBQ, grill, smoke, bake, and perform any type of cooking you can think of!
Smoking
This is what a pellet grill is specifically designed for, allowing those new to BBQ smoking to learn this new cooking style easily. Pellet smokers also generate thin some, free of creosote which is a common byproduct of incomplete combustion that improperly operative wood or charcoal smokers produce. With a pellet smoker, you get a cleaner flavor in your meats when compared to charcoal or electric grills.
Baking
Pellet grills operate very similarly to an indoor oven, using indirect hear circulated by fan drive-convection while also holding a steady temperature within 5°F of your target temperature between 350°F – 425°F. With these characteristics, some pellet smokers are capable of baking food such as biscuits, bread, pastries, and other delicious desserts.
Since the wood pellets will fully combust, your baked goods will not have an overpowering smoky flavor but rather a subtle flavor.
Grilling
While they are known for their low and slow properties, some models of pellet grills can reach temperatures hotter than many gas grills. There are several brands that have sear designs that will expose your food to the flame of the fire pot directly. There are models that can cook steak and vegetables in minutes, giving you a meal that is full of a clean and mild smokey flavor.
Innovative Pellet Smoker Features for High Tech Cooking
The pellet smoker industry has made major strides in the last few years to create pellet smokers that have a variety of high-tech features to make your cooking experience even better! From smartphone apps and Wi-Fi capability to gas features and sear stations, these upgrades will take your pellet grill to the next level!
Sear Stations
To get that perfect sear, some pellet smokers have attachments or accessories that give you the ability to grill food directly over the fire pot of the pellet smoker. Some pellet smokers even offer full sear-zone side burners on the pellet smoker for ultimate versatility.
Gas Features
Some pellet smokers feature gas grilling capabilities that can offer you a sear box, griddle box, or even a pizza oven. Cook a brisket low and slow while you grill hot dogs or warm up your sides on a versatile power burner.
Wi-Fi Connectivity  
Pellet smokers with Wi-Fi connectivity will connect directly to your home network. This allows you to monitor your pellet smoker and even adjust the temperature of the smoke all from your smartphone using an app.
Looking for the Right Peller Smoker? West Penn Billiards Can Help!
Our expert team can help you find the right pellet smoker to meet your outdoor cooking needs. From Wi-Fi-enabled smokers to ones with multiple cooking capabilities, there is a pellet smoker for everyone! Find the one for you at West Penn Billiards by
contacting us
today!
Latest posts by West Penn Billiards
(see all)