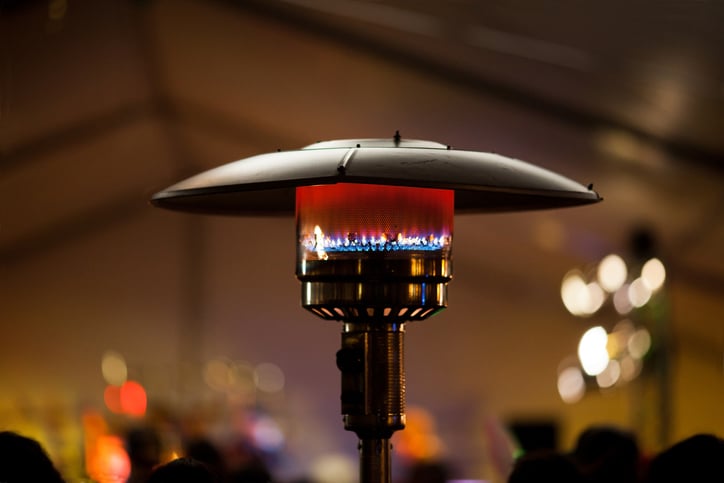 As business owners and homeowners continue to adjust to the ever-changing needs of their customers, families, and friends, outdoor patio heaters are becoming a popular commodity. With a patio heater, you can extend the use of your outdoor dining area as well as your patio season at home.
These patio heaters help create a comfortable environment for guests to enjoy your outdoor space year-round. If you've been considering a patio heater but aren't sure where to start with the buying process, use this guide to get started!
Benefits of Using a Patio Heater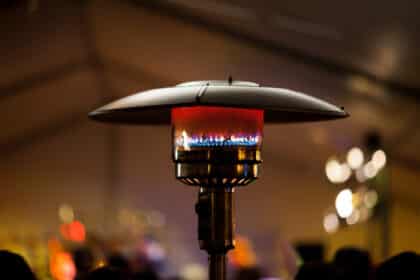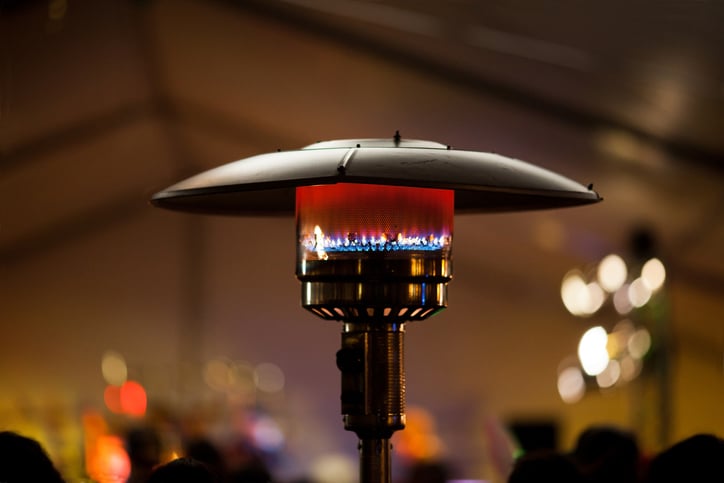 Patio heaters offer a variety of benefits, the main one allowing you to extend the use of your outdoor space even in colder weather. Another major benefit is that a patio heater uses radiant heat to warm your outdoor space. Unlike the convection current heaters or forced-air heaters, whose warmth can be carried away by the wind, radiant heat works more like the sun on a warm, clear day.
Another benefit is that patio heaters are available in a variety of sizes, shapes, and price points to meet your needs and your budget. You can also enjoy a patio heater with minimal maintenance. You can also expect that although our initial investment in the patio heater may be high, you will have a long-lasting, convenient investment that you can enjoy for years to come, even in harsh weather.
What Types of Patio Heaters Are There?
Propane
Propane patio heaters are available in portable and permanent configurations. With a permanent propane heater, you will have an ample gas supply, whereas, with portable heaters, you can move the heater to where you need it most. You can also store your portable heater when you don't need it.
Permanent propane heaters will require professional installation, whereas your potable unit will need to have the fuel levels consistently monitored, so you don't run and leave guests in the cold.
Natural Gas
Natural gas patio heaters are a very durable, heavy-duty option for outdoor heating. They are available in a variety of sizes and shapes and can be connected to an existing gas line for installation.
If you are looking to heat a large space for a longer period, a natural gas heater is an affordable option. These units require a connection to an existing gas line, so you will need to have a professional installer come in to complete the connection for proper operation. This can add to your installation costs.
Electric
Unlike gas heaters, electric heaters do not require special ventilation. This means that you can use electric heaters indoors and outdoors. If you have a patio that is screened- in or similar closed-in space, you can utilize an electric heater when the temperatures drop.
The downside to electric heaters is that they do not produce as much heat as gas patio heaters. This means that with an electric heater, the amount of space you can heat will be limited. Depending on the location of the area you want to what, electrical supply may also be an issue.
Some electrical patio heaters can be plugged into a standard 12-volt socket. Other types of patio heaters require higher voltage sockets to produce the proper heat output. Patio heaters that require a higher voltage will need to be professionally hardwired.
Choosing the Right Patio Heater
There are a variety of factors to consider when choosing a patio heater. In this guide, we provide you with a few places to start when choosing the right heater. Some requirements to consider include:
How will you mount the unit?
Take a look at your floorplan of the space that you plan to heat. Consider if you want the heater to be freestanding, portable, or wall-mounted. Think about the foot traffic in the area, available floor or wall space, and any of the electrical connections or gas connections that you will need to make. If you don't have the proper connection, you will need to make sure that the new lines can be run to the space.
How much heat output do you need?
One of the most important things when choosing a heater is that it has enough heat output to warm your space properly. With the wrong size heater, you may leave your guests out in the cold and uncomfortable in your space. Be sure to measure the square footage of your space and work with the experts at West Penn Billiards to help you choose the patio heater that will effectively heat your space.
If you plan to add multiple gas heaters to your space, then you need to make sure that you have enough gas running to that area to supply all your heaters. A professional gas plumber can make recommendations for an adequate fuel supply.
How would you like to control your heater?
You will want to consider if you want to have easy-to-use on/off switches, timer controls, or remote capabilities for controlling your heaters. Many models of patio heaters can be set up to meet your control preferences and the needs of your outdoor space.
Patio Heater Safety
When choosing a patio heater, you want to look for units that have UL listings or CSA approval. You also want to look for other signs of quality assurance when considering a patio heater. These certifications indicate that the patio heater has been tested for reliability and safety. Certified patio heaters may carry a higher cost, but the time you will save on maintenance and the peace of mind knowing they are safe to use are priceless.
Interested in Purchasing a Patio Heater?
West Penn Billiards offers a variety of patio heaters to meet your needs. Our experts can help you choose the perfect heater for your space.
Contact us today
to learn more!
Latest posts by West Penn Billiards
(see all)