Now that you have your pool table set up in your home, it's time to accessorize! Accessories are a great way to make your pool table your own and make playing that much more enjoyable!
Set of Pool Balls
What would a game of pool be without a set of pool balls? High-quality pool balls not only make the game possible but the right ones will be properly calibrated and polished to ensure they provide you with superior playability and a long lifespan.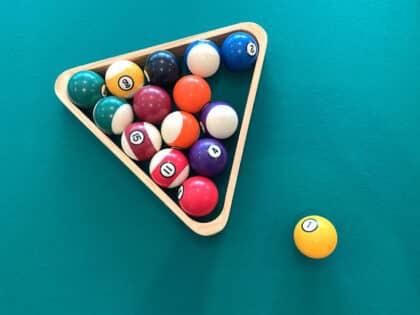 Our experts that your purchase pool balls that are regulation size and weight. This will make them suitable for players of all skill levels.
Ball Rack 
Next, you will need a place to store your pool balls when they are not in use, so you will need a ball rack. These can be either a traditional 8-ball rack or a 9-ball diamond. Look for a rack with a frame of regulation size to ensure the balls are secure and held in a uniform way.
Professional Chalk Box
Whether you play all the time or are someone who plays on occasion when you have company, cue chalk is a must! We recommend purchasing professional grade cue chalk to ensure that it goes on smoothly and does not cake as easily as lower grade options.
With high-grade chalk, you can lower the number of off-center hits for more consistent shots.
Quality Maple Cues
Maple cues are a great option for your pool table. We recommend that you purchase a set of cues with each cue in a different wight. Canadian maple is highly recommended as it is sturdy and durable. Be sure to test the handles for a comfortable, good grip.
Pool Table Accessories in Pittsburgh
At West Penn Billiards, we offer a quality selection of pool table accessories to help you outfit your new pool table and make your playing experience great.
Contact us today
to learn more!
Latest posts by West Penn Billiards
(see all)