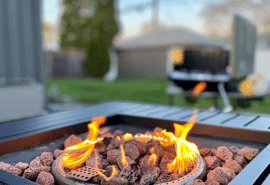 Choosing a fire pit may sound like a complicated process, but it doesn't have to be! At West Penn Billiards, we've put together a guide to help make the process of purchasing a fire pit for your backyard an easy one!
Start with Your Budget

Before beginning your fire pit project, make sure you have a budget set. Even if you only have a rough estimate of what you'd like to spend, it is important to know what you want to spend on your fire pit before getting too far into your project.
Depending on a variety of factors, fire pits can vary largely in price. You will need to look at the entire construction process to ensure that your costs don't go way over what you expected to pay for the build.
Get The Proper Permits

Before the start of your project, be sure to check your local building codes related to fire pit installation. You will also want to check whether your area requires any type of building permit before construction can begin. You are will likely have simple guidelines to follow, and it is important to be aware of these guidelines before you go ahead with the construction. If you build without the guidelines and codes, you may have to change your design, leading to extra costs and stress.
Choose Between Propane or Natural Gas

Before you can have your gas lines installed, you need to determine which gas supply you plan to use. This is where it is crucial to bring in a professional to help regulate the gas pressure of your
fire pit
to avoid too much pressure or too little pressure in your fire pit. Relaying a gas line can become costly and could end up costing you more than the original project, requiring you to tear up concrete or your patio, so a professional is highly recommended.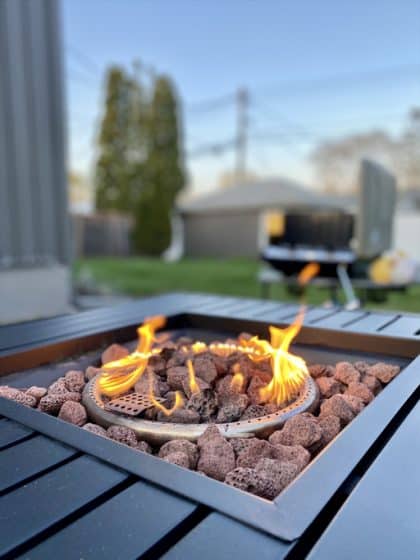 When working with a professional gas plumber, you will want to tell them how big you want the fire pit to be and what size fire pit burner you plan on using. By providing them with these details, they will determine the BTU you need and the gas supply they need to account for as they consider the variables such as gas pipe material, the distance the gas must travel, and pipe size.
When speaking with your gas installer, you will need to give them the proper supply pressure for the type of gas you choose. You will need a supply pressure of 3.5 inches to 7 inches of water column for natural gas. You will need a supply pressure of 8 inches to 11 inches of water column for propane gas. These pressures will need to be available at the fire pit to ensure the fire pit works as intended.
Propane tanks with a regulator can also be used to power a fire pit, but you will be more limited in the size of the fire pit you can build. Your burner options will need to be 125,000 BTU or less for your fire pit to work properly.
Choose the Size and Shape of Your Fire Pit

Firepit size and shape will largely depend on your preferences, but there are a few things that you should take into consideration.
Tips for sizing your fire pit:
The actual size of your fire pit will depend on your budget, the amount of space you have, and fuel supply limitations. When choosing the burner for your fire pit, it is important to understand that the burner can increase your price significantly. For example, a brass burner system costs more than a stainless-steel system, and as the burner size increases, the cost for materials and the BTU requirements increase.
You also want to evaluate how much space have to build with. You will likely need a burner that is six to 12 inches smaller than the interior dimensions of your fire pit enclosure for proper clearance. With these measurements, you will be able to set up your fire pit with the right amount of space.
For the most part, the shape you choose will be based on personal preference. Here are a few of our fire pit shape suggestions:
Rectangular or Square- If you are looking for a contemporary appearance, a square or rectangular fire pit is a great option. Keep in mind it will be more difficult to fit many people around this shape to feel the flames.
Round- This shape offers a classic look that is easy to integrate into your outdoor space. Complement your rounded landscaping elements with a round firepit.
Sunken- For a unique design, consider a sunken fire pit. This is where all the elements of your fire pit are installed below grade. This can help protect the flames, add privacy to your space, and create a cozy atmosphere.
Linear- This is another great shape for a contemporary look but with ample space to sit around. In many cases, a linear fire pit is a fire table where guests can set drinks and food, so be sure to adjust the flames accordingly.
Get Started on Your Project with West Penn Billiards

At West Penn Billiards, we offer a wide selection of fire pits in various shapes and sizes to suit your fire pit project.
Contact us today
to get started!
Latest posts by West Penn Billiards
(see all)