If you want to add a dartboard to your game room, there are various games to enjoy that anyone can play! Darts has a gentle learning curve and dozens of games to choose from, making it a great addition to any game room!
Darts
is a great competitive game that anyone of any shape, size, or athletic ability can enjoy. With so many options out there, it can be hard to determine which dartboard is best for you.
At West Penn Billiards, we can help you determine the best dartboard for your game room.
Pros and Cons of an Electronic Dartboard
If you are looking for a dartboard that is great for both beginners and advanced players, then an electronic dartboard is a great option. Also known as soft tip darts, an electronic dartboard is made up of plastic segments installed over electronic sensors with thousands of little holes in the segments where the darts strike and stick.
Once a dart sticks to the board, the score is counted based on where the dart stuck. The electronic dartboards also feature player prompts to keep the game moving smoothly and even have bilingual capabilities and handicap options to make playing a breeze for all players.
Over time, the electronic dartboard will become damaged by the darts. It will withstand years of heavy play, but eventually, the darts will hit the controls and display, causing components to break, so keep this in mind if you plan to use the dartboard often.
Pros and Cons of a Bristle Board
A bristle board is often referred to as a boar bristle or a corkboard. This is the type of dartboard you may picture when you think of playing darts. Typically with a bristle board, you will use steel-tipped darts, but in some cases, players will use soft tip darts.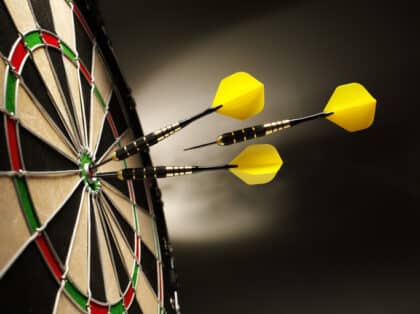 This type of board is commonly used in bars and pubs and is also used for tournament play. The bristles refer to the fibers the board is made from, which are cultivated from the sisal plant. These tiny fibers are bound together tightly, which forms the board. These boards are self-healing, meaning they do not suffer damage from the darts when they are pulled out. Instead, the fibers will close back together, making the board last longer.Over time, the bristle board will begin to show uneven wear and tear in some areas. To prevent this, many bristle boards feature a movable number ring that allows you to rotate the ring occasionally to allow for more even wear, which will help the board last longer.
Dartboards and Accessories from West Penn Billiards
At
West Penn Billiards
, we provide an array of dartboards, both electronic and bristle boards, as well as a number of dartboard accessories such as darts, dartboard cabinets, dart mats, and more!
Latest posts by West Penn Billiards
(see all)